It takes a special kind of person to be a successful leader. They need to be able to motivate and inspire others while also making tough decisions and handling challenging situations. But where do you find these future leaders? And once you've found them, how do you develop and retain these leaders? That's where TalentClick's Leadership Profile can help.
The Leadership Profile is an assessment that measures an individual's leadership potential. It can be used as part of the talent acquisition process to identify high-potential candidates as well as with current employees to help develop their leadership capabilities. Either way, the Leadership Profile is a valuable tool for any organization that wants to foster a culture of strong leadership.
How TalentClick's Leadership Profile (LP) can help identify potential leaders within an organization
TalentClick's Leadership Profile is a 45-60 minute online assessment measuring behavior and skills that assess a person's potential for leadership. This assessment helps organizations identify and coach those individuals with the right mix of personality and cognitive abilities who are best suited for leadership roles.
TalentClick provides insights into candidate personality traits — including workstyle, business reasoning skills, and conflict management style — that reveal their natural leadership abilities, providing a starting point for coaching and development. Participant Reports provide the participant's areas of strengths, their potential leadership challenges and personalized coaching tips to start growing as a leader. 
With TalentClick, organizations have a reliable resource to help identify the right people with the right skillset and ensure they are set up for long term success. Start developing and retaining your future leaders today.
Top tips on how to get the most out of the TalentClick Leadership Profile
Developed with leading experts in assessment technology, TalentClick's Leadership Profile provides objective and accurate insights into an employee's workstyle, business reasoning skills, and conflict management style. 
The employers receive a report packed with management tips and interview questions tailored to the individual employee. Meanwhile, the Participant Report provides personalized coaching tips for developing skills based on each employee's personality. Utilizing the TalentClick behavioral and business reasoning assessment can help managers optimize team dynamics, manage conflict more effectively, and handle areas of growth in a practical, business-minded way.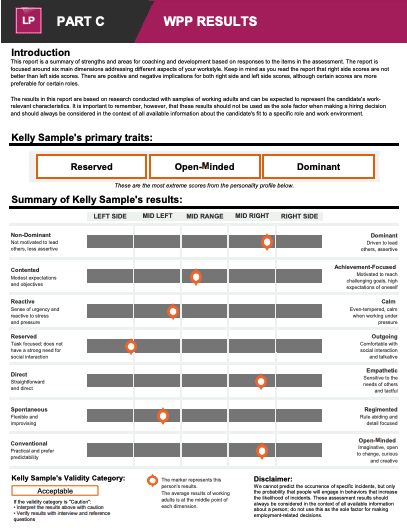 Workstyle & Performance Profile

– The first part of the Leadership Profile dives into an employee's on-the-job behavior. By gaining a better understanding of an employee's default personality traits and behavior, future leaders can recognize how to reach common goals within a group or organization in addition to providing concrete feedback on areas for development.
2. Business Reasoning – This cognitive portion of the LP helps measure an individual's decision-making and critical thinking abilities. Testing advanced numerical and language reasoning within your existing employees helps identify top performers and effective leaders for your organization. Understand the strengths and areas for development with personalized insights into their problem solving, advanced calculations, and communication abilities and put them on the right leadership path.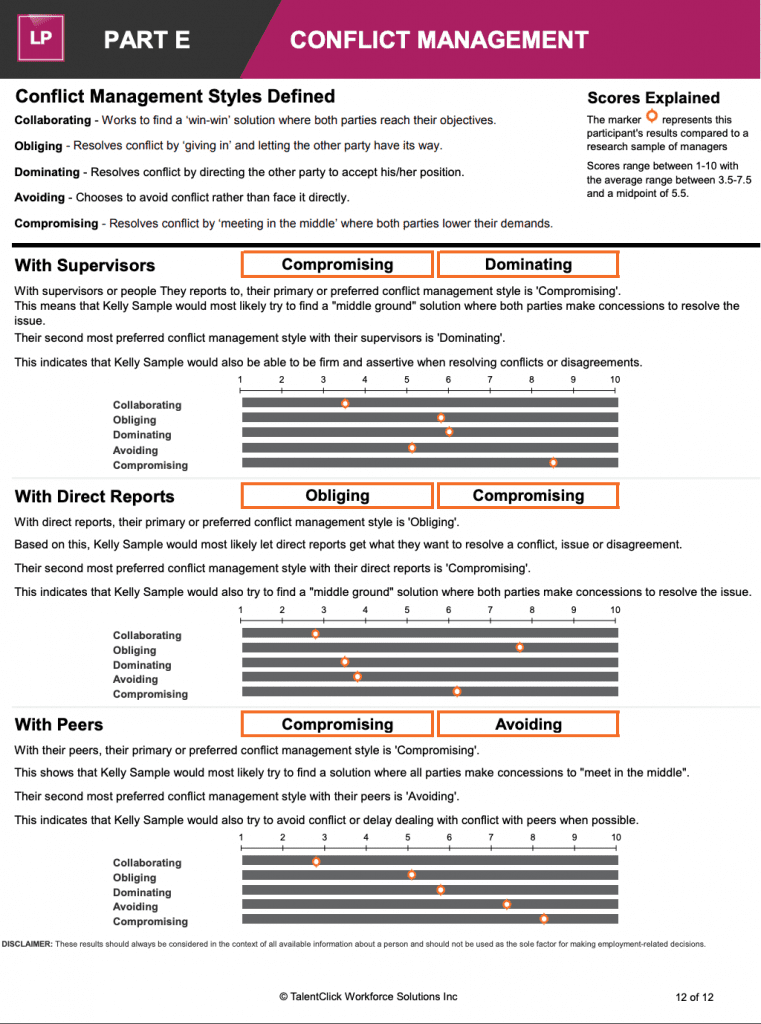 3. Conflict Management Style – Good conflict management can lead to more effective communication and help build trusting relationships between teams and people at work. A good leader will understand the importance of compromising, avoiding, obliging, dominating, or collaborative styles as part of their approach to resolving conflicts between different parties. Understanding an employee's default style will help organizations know where to focus when helping developing leaders gain confidence in other conflict management styles.
TalentClick's Leadership Profile is the perfect tool for any organization looking to identify and develop future leaders. Both the Employer & Participant Reports provide detailed insights into an individual's leadership skills, development needs, and potential. 
The need for great leaders is more important now than ever before – make sure your organization is prepared. Try TalentClick's Leadership Profile to develop and retain your future leaders today!