Find Safe, Productive Workers for your Organization
TalentClick helps you hire and develop top-performing workers and supervisors with behavioral assessments focusing on predicting Strengths AND Risks to prevent incidents related to Human Error across many Manufacturing organizations.
The top 3 challenges we help Manufacturing organizations solve:
Hiring in a labor shortage due to high turnover.
Assessing Safety Risk and Cognitive ability within workforce and new hires.
Finding safe, productive workers for highly repetitive roles and continuous, volume hiring.




How We Help: Predictive Analytics
TalentClick behavioral testing provides insight into a worker's default personality traits and how those traits impact their
safety risk
and
on-the-job behaviors
for frontline and supervisory positions. All our assessment reports provide personalized interview questions, manager tips, and job fit considerations relevant to the candidate's strengths and risks to help them perform better at work.
Screen in more candidates by determining their risk tolerance and fit to both the job and the culture of your organization. Our database includes top-performing profiles for:
Laborer
Operator
Supervisor
Assembler
Fork Lift Driver
How TalentClick Improved the Quality of Hire for a Global Manufacturer
TalentClick set out to determine the effectiveness of predicting job performance and safety-related behavior by analyzing data from new hires at a global manufacturing organization. After collecting data for 6 months it was determined that:
High Scores on Spatial/Mechanical Ability (Cognitive Quotient) are correlated with High Ratings on productivity and quality
Resistant Scores (AVP) are correlated with terminations, corrective actions, property damage and low quality ratings
Low Coachability (AVP) scores are correlated with injuries, equipment/property damage and corrective actions
For all the insights gathered, read the full Data Analysis executive summary: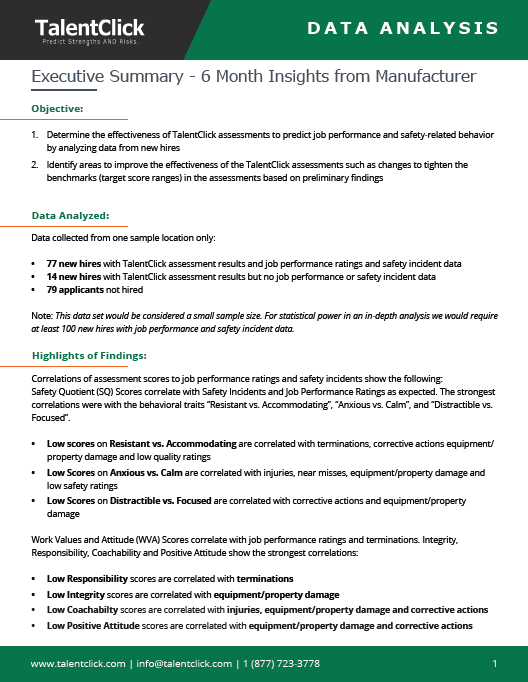 TalentClick recommends the following solutions to assess your workers: