Understanding Personality Behind the Wheel
In the past, people used to think that driving accidents were just that: "accidents." However, science is now showing that there are multiple measurable factors that contribute to collisions. Personality traits uniquely impact our behavior in all situations, and driving is one of them. Employing drivers is a stressful responsibility, especially when they hit the roads in extreme weather: including wind, rain, snow and ice. As a manager, understanding the link between personality and driver behavior can help keep you and your drivers safe on the road no matter the weather.
3 Tips for Staying Safe on the Roads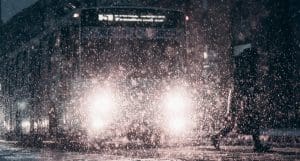 Drivers and Operators who are highly Impatient had on average 260% more incidents
Manager Tip for Impatient Drivers: Remind impatient drivers that when weather is extreme not to rush and that other drivers may not be as comfortable in the conditions thus taking their time. 
Drivers and Operators who are highly Resistant received on average 4.6 times more traffic tickets
Manager Tip for Resistant Drivers: Resistant drivers may be tempted to stray from standard operating procedures. Remind them of the possible consequences of driving in extreme weather to encourage them to follow necessary safety rules and restrictions.
Drivers and Operators who are highly Distractible had on average 139% more At-Fault Accidents
Manager Tip for Distractible Drivers: Distracted drivers may become bored or restless in slow traffic caused by extreme weather.  Encourage drivers to limit distractions like having their cell phone in view or listening to loud music to help them focus on the road ahead.  Remind them to pull over and take breaks when driving in hazardous weather conditions, especially if traffic has increased. 
By understanding the personalities of your drivers you will be able to provide individual management tips to best maintain safe conditions despite hazardous weather. This Research Study shows the links between personality and driving incidents.
Get started with the Driver Safety Quotient (DSQ) today to find out how you and your drivers may react in extreme weather conditions.
Want to know more about your personality behind the wheel?  Try free DSQ assessment now!