Everyone knows that baby boomers are starting to retire, creating a high demand to find skilled workers to fill these vacant positions. This is causing a shift in how recruitment is handled with different job boards, applicant tracking systems and even employee personality tests.
Recruitment should be an integral part of the growth and success of any company and should be something that the whole company is part of, not just your Human Resource department.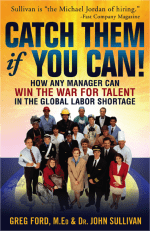 Over the coming weeks, we will be sharing tips from 'How Any Manager Can Win the War for Talent in the Global Labor Shortage' – a book that looks at the everyday struggles to win the "worldwide war for talent" written by TalentClick CEO Greg Ford, M.Ed. and Dr. John Sullivan.
No matter what sector you're in, no matter what size your organization is, you'll gain a new appreciation and attitude toward recruitment.
Seven Ways to Prepare for the Global Labor Shortage
Seven Methods to Change Attitudes About Recruitment
Six Ways to Stop Wasting Recruitment Time
Exclusive – Download First Section of "How Any Manager Can Win the War for Talent in the Global Labor Shortage"
Nine Tips on Social Media and New Technology for Recruitment
Six Approaches to Landing Top Performers
Six Ways to Close Candidates and Improve Your Hiring Success