Retaining top talent is a challenge for any organization. However, the right strategies can help ensure that you are getting the most out of your employees and that they are happy and engaged with their work. Here are four ways TalentClick helps retain employees and why it might be just what you need to keep those valuable team members around!
1. Use Behavioral Assessments and Ideal Profile Benchmarks to identify and hire the right candidate: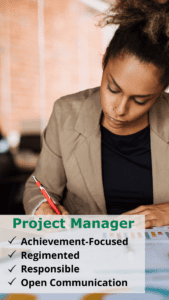 Behavioral assessments with job profile benchmarks offer you a comprehensive evaluation of a candidate's suitability for the job and the overall company culture. By measuring job fit and culture fit attributes, these assessments empower recruiters and hiring mangers to make well-informed, data-driven decisions – helping to ensure that the right person is hired for the role.  
TalentClick's Attitude-Values-Personality (AVP) Profile provides insight into a candidate's on-the-job behavior and soft skills that can impact their success in a specific role. The report also provides personalized interview questions to probe into specific strengths and areas of concern.
Embracing a hiring strategy that includes benchmarks and assessments can therefore unlock enduring benefits, positively impacting the individual and the organization as a whole by increasing job satisfaction and reducing disruptive and costly employee turnover.
2. Provide Participant Reports to employees for self-awareness, safer behaviors, and growth on the job: 
Delving into a personalized approach to employee self-development and growth, TalentClick provides Participant Reports (see sample)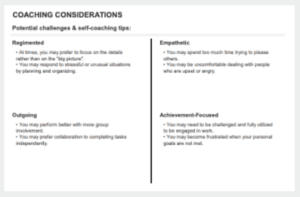 for employees to unlock their hidden potential and focus on self-development. By providing self-awareness tips and coaching guides, managers can focus on developing employees in a personalized, impactful way.
As they engage in self-coaching, managers and employees can set goals and identify mentorship opportunities that could lead to future growth within the organization. Employees who are supported in the ways most suited to their personality and goals have the opportunity to grow to their full potential, be more engaged, and be retained year after year.
3. Create a safer workplace by assessing behavioral risk and with employee safety training:
TalentClick's Safety Quotient (SQ) / Driver Safety Quotient (DSQ) assesses behavioral risks and predicts unsafe behaviors that lead to incidents and injuries in the workplace. By equipping employees with personalized safety insights, managers can reduce human error and incidents on the job. By identifying each employee's unique risk factors, the SQ helps safety leaders and workers to understand their own strengths and areas for development, empowering them to make better decisions and maintain a culture of safety at work. 
Employees who feel safe and supported in their working environment can concentrate on delivering amazing results. 
4. Measure Employee Engagement and implement engagement strategies based on what your employees really think:
TalentClick's Employee Engagement Survey is a tool for organizations seeking to cultivate a thriving and satisfied workforce. By gathering feedback on workplace satisfaction, organizations can pinpoint the areas that need improvement and customize engagement strategies to effectively address their employees' needs. This forward-thinking approach can bolster employee motivation and foster a sense of loyalty within the organization. When companies invest in consistently assessing and enhancing employee engagement, they can not only advance their own growth but also contribute to the overall well-being and happiness of their team members.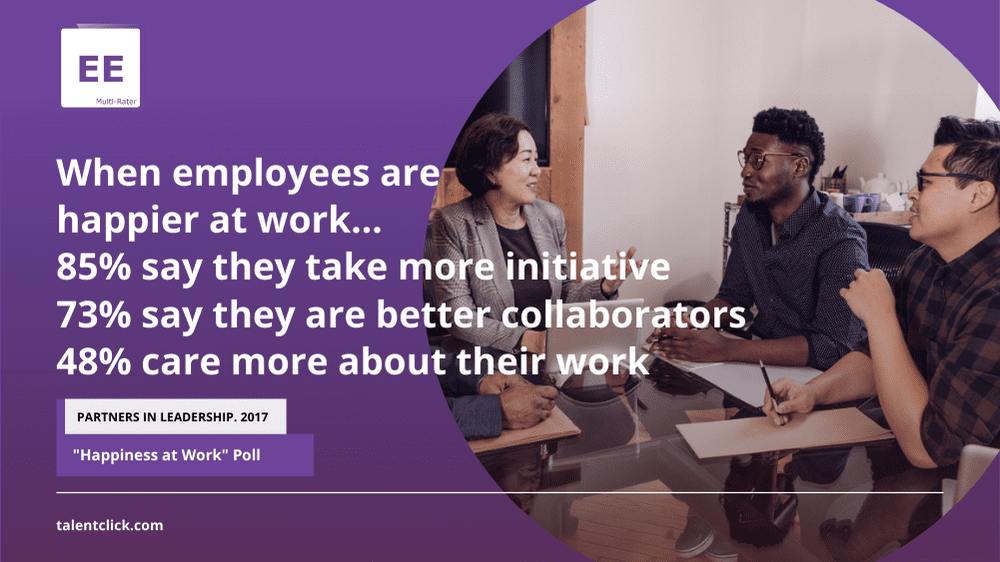 Take your employee engagement strategy to the next level with TalentClick's employee retention solutions! Get started today and discover how TalentClick can help create a productive and engaged workforce.