"Executives everywhere should want the world's workers to thrive. And helping the world's workers thrive starts with listening to them. Hear what they have to say about how life at work is going…"
– Gallup, State of the Global Workforce, 2022 –
The world of work is in a state of perpetual change. What employees are looking for, what they need to thrive, and how they feel about their job seem to fluctuate on almost a daily basis. Managers and executives have varying opinions about work ethic, quiet quitting, and inflation demands, all driving to that bottom line. But what does your workforce really think about you, your organization, and their job?
Think you know what your employees want? Think again.
TalentClick's Employee Engagement Survey brings you data-driven insights for an accurate, current understanding of employee sentiment. This survey, delivered to managers and non-managers alike, provides a detailed report on the key aspects of employee satisfaction. Narrow the gap between what ​ leaders think is happening in your organization and what is really happening.
The TalentClick Employee Engagement Survey produces a detailed report and provides you with detailed insights, easy action tips, and visual results to help you understand your workforce. Let's break down the 3 main insights you get!
1. How your employees think you're doing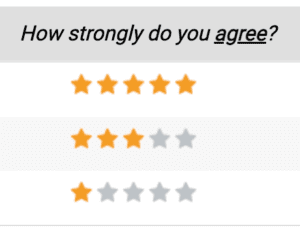 Employees are asked to answer a list of statements on a 5-point scale from "strongly disagree" to "strongly agree". The results then display in a bar chart, showing how your employees rate your organization in each area: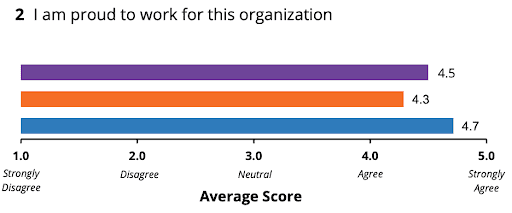 Employees are asked to rate 12 Engagement "Drivers," reflecting employee perceptions of job features, supervisory behaviors, or organizational practices that have been shown to drive engagement, satisfaction, and commitment. As well, they rate 3 Engagement "Indicators," reflecting overall employee sentiments, attitudes, and intentions toward their job or organization, ie. their intention to stay in the role.
2. How important it is to them
The second key measurement employees answer is how important each aspect is to them.  Here's where you learn what your workforce cares about most.

This is a great indicator of how the employees feel about the rating they are giving your organization. For example, perhaps your organization cannot offer workplace flexibility (work from home vs job site). What you really need to know is if this is important to your workforce – or not – to help guide organizational decisions or communicate expectations.
The importance ranking helps you understand what areas to prioritize for organizational improvements, which leads us to the executive summary:
3. Your Organization's Strengths & Areas for Development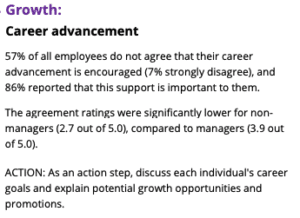 The Executive Summary at the beginning of your Employee Engagement Report provides you with your top 6 areas of strength, and 6 areas to prioritize for improvement. The report combines both how your employees think you are doing and how important it is to them. 
Your top 6 strengths are the highest rated AND most important to your employees. Your 6 areas for improvement are the lowest rated areas AND most important to your employees. 
The summary then provides you with recommended action tips to help you start increasing your engagement immediately!
Why does this all matter?
Understanding how satisfied your workforce is with their jobs affects your bottom line. A more engaged workforce drives more profitability and productivity and is more resistant to burnout. It all starts by listening to your employees, and then taking meaningful action to reap the rewards for both the organization and people within it!
Start measuring Employee Engagement Today! Contact us to learn more.
"Completion of the engagement survey has allowed us to compare and contrast the needs of each business unit, identify areas for improvement to drive retention and decrease intent to resign and to collect meaningful data that can translate into operational business goals."
-Mining Organization-