At TalentClick, employee engagement isn't simply a matter of job satisfaction. It's about building happy, safe, and productive workforces. Our Employee Engagement Survey is designed to help you focus on what really matters: Your employees! There are 3 key advantages our survey can bring to your team – from opening up honest feedback channels to providing meaningful action tips for improvement — all with the overarching goal of keeping your workforce engaged and empowered. Here are the top 3 benefits:
1. Uncover Actionable Insights
Prioritize areas of improvement in your organization with actionable insights and employee feedback.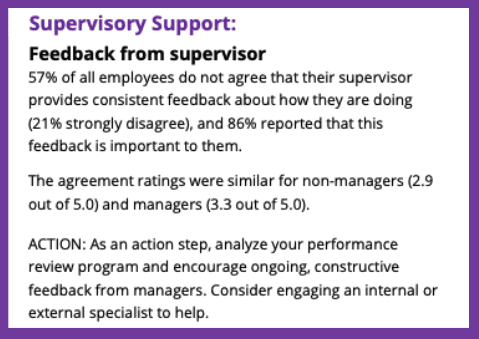 TalentClick's Employee Engagement Survey captures engagement indicators and drivers for a comprehensive and predictive framework based on research and leading best practices. This unique framework helps organizations get a "pulse check" on how employees are feeling and their general attitudes toward the organization (i.e., "indicators"), as well as insight into the specific levers that underlie these feelings and attitudes (i.e., "drivers"). By having both drivers and indicators, we help organizations identify engagement patterns and ways to improve over time.
Overall, TalentClick's Employee Engagement Survey gives leaders a rich understanding of what drives employees' attitudes and opinions to form effective strategies for success within the organization.
2. Focus on what is most important to your employees
Understand what is most important to the people in your organization. 
Importance ratings are included to identify gaps between the expectations and values of your workforce and their current view of their job. This helps identify priorities and action steps to increase engagement for the best outcomes and return on investment.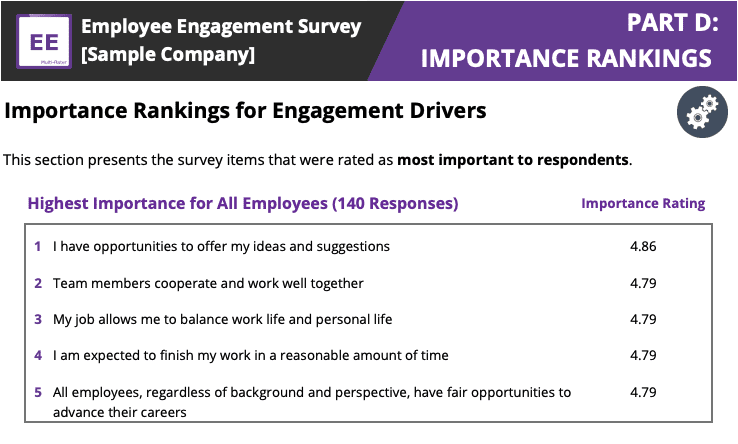 By being aware of what employees value most within the workplace, organizations can make informed decisions on how to spend resources or invest in certain aspects of employee engagement, such as training and development, benefits or incentives, and improving working conditions.
3. Receive honest, anonymized feedback from employees
By using an external third-party expert, employees may share more honest, detailed feedback
TalentClick's Employee Engagement Survey responses are completely confidential. This confidentiality encourages each participant to deliver honest feedback about their experience at the organization.
It's not just about numbers and ratings. Qualitative, open-ended feedback is also included to provide a platform for employees to share specific examples and suggestions in their own words. Save time and guesswork by identifying trends in employee feedback specific to your organization's procedures and practices. TalentClick provides a full report dedicated to examining this qualitative feedback.
Start Increasing engagement and retaining top performers.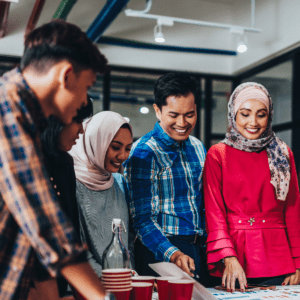 Improve your employee engagement today with TalentClick's Employee Engagement Survey. With drivers & indicators, open-ended feedback and action tips, you can gain a 'pulse check' on how employees feel about the organization and what specific levers may be causing these feelings. And by gathering honest, detailed feedback from external third-party experts – which may be more transparent than if done in-house – employees will know they're being heard. Analyze your survey results and suggested action tips to identify areas for improvement. So don't delay, put employee engagement into motion and let TalentClick help you achieve your goals.