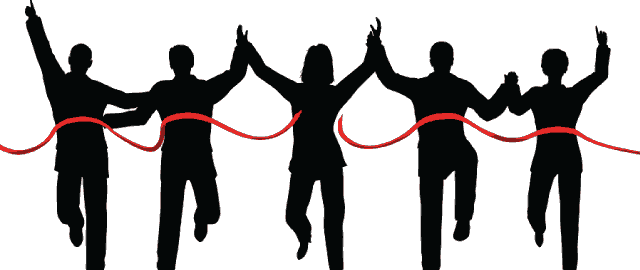 Ever since the dot.com boom, workplace culture has been hot on the mind of every executive. A winning culture is what separates you from your competition and leads to a myriad of benefits including greater productivity, employee retention, brand growth, innovation and overall happiness. A winning culture is integral in achieving rapid growth, yet rapid growth can also lead to culture erosion.
Rapid growth leads to a massive increase in employees, making it that much harder to insure that all of your team members' buy-in to your organizations culture. It can seem like a catch 22 but it doesn't have to be. With these simple tips that outline the keys to building a winning culture, your growth won't have to come at the expense of one of your organization's most important attributes.
Remember, creating and maintaining a winning culture isn't easy. It takes work to engrain a set of values into a team and they need to be maintained and showcased every single day. Clearly define your values, surround yourself with team members and clients that share those values and lead by example by living them every day. Think of it like the military. Make your culture a way of life.

Team members, not employees. Notice how we've been referring to employees as "team members". Winning is a term most often associated with sports and sports are often played by teams. Teams have united goals and work as one, all attributes that embody a winning culture. By building a true team atmosphere where everyone is working towards the same goal, and not individual assignments, your team members are more likely to be engaged, committed and feel proud to work with such a dedicated group of like-minded individuals.

Flexibility, trust and accountability. One of the easiest ways to keep your employees happy is by giving them flexibility and empowering them to manage their own schedules. If you have a team member who would like to leave early on a Friday afternoon so they can get a head start on the drive for a weekend away in Portland, let them. Have someone who has always dreamed of a train tour around Europe and wants three weeks off to cross something off his or her bucket list? Give them that flexibility. With one caveat. Make sure they understand that such flexibility is available if they have completed all necessary responsibilities and have made arrangements for other teammates to cover any existing projects. By setting up a system of flexibility based on accountability and trust, your happy employees will also be your culture evangelists.

Focus on results, celebrate success and constantly raise the bar. A team needs goals to focus on and when those goals are met it's time to celebrate. Share your celebrations with the entire team and reward those who made exemplary contributions. When rewarding them in front of their teammates, it's a chance to reinforce the elements that made the project so successful and how that relates to your workplace values.

Once the previous goals have been met and celebrated, it's time for a new set of goals to strive towards. Keep setting the bar high and constantly expect more from your team. Strong teams have a habit of rising to any occasion, and by focusing on results, measuring success and growing from past experiences your culture will help constantly raise the bar.
Letting your culture slide can have disastrous results and can turn a high performing team of talented individuals into a collection of disengaged employees. Never lose sight of your core values and strive every day to create a workplace environment that embodies all of the traits that have made your organization successful. By always making your culture a priority, you'll be able to maintain your winning streak while your company grows.