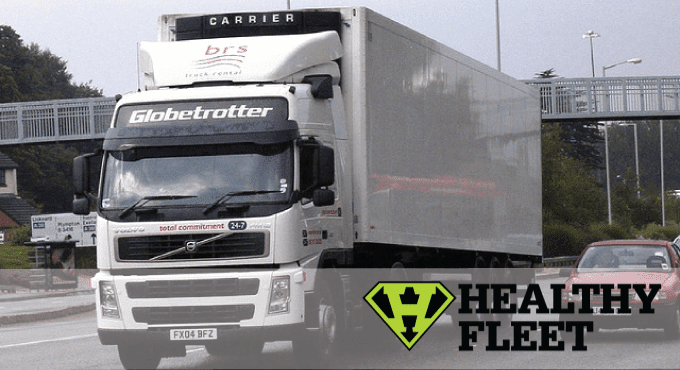 Why This Innovative Initiative is Getting Attention
Many people sit for hours while at work, and those hours can go well past the usual "nine-to-five" for long haul truck drivers. This is concerning when you consider the recent studies showing that sitting for long periods of time is terrible for your health and can actually lower your life expectancy. In fact, trucking industry health statistics show that the average trucker's life expectancy is age 61 (that's nearly 20 years below the national average) and the obesity rate is 69% (double the national rate).
Powered by Healthy Trucker, a corporate wellness consulting company for professional drivers, the Healthy Fleet Challenge seeks to do something about this by challenging truck drivers to walk a total of 25,000 collective miles in one month (the equivalent of a walk around the world). Drivers get their walking in whenever they can–even by doing laps around their trucks–and track their mileage using a special app they can download on their phones. An element of fun is added by pitting different fleets and trucking companies against one another in the challenge rankings listed on the Healthy Fleet website. Who doesn't love a little healthy competition? It's a pretty creative way to engage career drivers and get them excited about improving their health while having something new and interesting to do at work.
More Than Healthy Drivers
By getting the truckers' feet moving when they're not on the job, Healthy Trucker hopes to help improve the dismal health statistics in the trucking industry. But it's not just about that–employers know that healthy employees are happy, productive employees with greater job satisfaction. It's a win-win for everyone, really.
With Healthy Fleet, trucking companies can go a step further and purchase a complete wellness program for their fleet, including access to nutrition and fitness coaches, meal and exercise planning, health assessments, weekly food and exercise logs and even daily text tips. Pricing varies according to fleet size, so you only pay for what you need. It's a unique approach to workplace wellness that caters to the specific needs of commercial fleets, and helps trucking companies invest in the health and happiness of one of their most important assets–their people.
Is your fleet up for the challenge? To learn more or to sign up, email info@healthyfleet.com.