The world of High-Performance sport is competitive and fast-paced. Team dynamics usually take a back seat to practice, gym training and tactics. However, all the training in the world can be sidelined by poor team communication or using the wrong strategies to motivate athletes.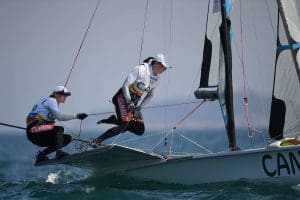 For me (Danielle Boyd – Sailing Olympian, Rio 2016), this was magnified in my team as there were only two of us. The team dynamic became even more important as communication — or lack thereof — could make or break a race for us. 
The sport of sailing is a fast-paced event, reliant on wind and waves and an ever-changing racecourse. While my teammate (Erin Rafuse – Sailing Olympian, Rio 2016) and I always knew we were different, that didn't change how we communicated with each other on and off the racecourse. We didn't understand where these differences came from, or how our own personality could impact each other. It took us nearly 4 years to come to an understanding of how best to work together, and how to get the most out of one another. 
4 years is an entire Olympic cycle. 
That's too long to figure out how to work effectively with your teammate; too long to get the best performance out of them at an important event. It would have been an advantage to have a tool to help us understand each other.
Recently, Erin and I completed the Sports Performance Profile (SPP) to understand where our greatest challenges as a team stemmed from during our sailing career. Maybe if we had these insights earlier on, we could have spent less time trying to figure out how to communicate and work together, and more time focused on training and technical aspects.
Some dimensions brought value to our team dynamics:
Reactive vs Calm 
Erin is highly Reactive, and I am highly Calm. This provided a nice balance in our team dynamic. As a highly Reactive athlete, Erin understood the urgency and importance of each race and situation. Everything counted. As a highly Calm athlete, I could stay positive and optimistic during stressful situations. It also meant I could slow the tempo down when things went wrong to allow us to move past it. These differences built strength in our team.
Non-Dominant vs. Dominant
Erin leans toward Dominant, and I am Non-dominant. This suited our positions in the boat. Erin was our skipper, she drove the boat and ultimately made the tactical decisions. My role was to provide information that helped Erin make the best decision. As someone who is high in Non-Dominant, this was something I was happy doing as I prefer contributing to the team, rather than leading. Erin fell just toward Dominant, meaning she was comfortable taking charge but also a cooperative team member and open to the information that I provided. This worked really well for our decision making around the racecourse.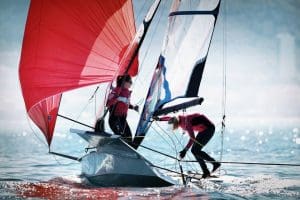 Our largest areas of team conflict stemmed from:
Spontaneous vs. Regimented
Spontaneous athletes are better at improvising and adapting to new circumstances, whereas Regimented athletes prefer a well-planned and scheduled approach. Since Erin was highly Regimented, in a sport as dynamic as sailing, this meant that she required a set of processes for before the start of the race as well as during various tactical situations that required a decision. Since I was high in Spontaneous, my feedback response was for her to "go with her gut." This would not help.
Over time, we had to develop 'rules' for when we deviated from our initial game plan so that we could make decisions faster when variables changed. It took training and learning from another Regimented athlete for Erin to understand how to effectively make decisions in these situations using her strengths.
Conventional vs. Open-Minded
While Conventional athletes love practical methods and are able to stay focused on repetitive tasks, athletes who are Open-minded like to try new ways of doing things and lose motivation with a lack of variability. Erin is highly Conventional, and I am Open-Minded, which led to some disagreement in our approach to learning new things. 
In sailing, different wind speeds required different techniques for manoeuvres, ie. tacking. While I was comfortable experimenting with different types of tacks in different wind speeds, Erin preferred to stick to a method that was working. This meant that we had really great tacks in higher wind speeds where the tried and true method paid off. However, it took us a long time to find the right type of tack at low wind speeds. Mostly because I was trying new things without Erin even knowing. The differences in this dimension impaired our ability to understand our needs for routine versus experimentation.
It took us a long time to work out our communication as a team. Knowing what the other needs to hear or express would have lead to a quicker understanding of each other, how to get the best out of the other, and improve our decision making while we competed.
**
Teams rely on strong dynamics so that the best decisions can be made on the field-of-play when situations become stressful and the pressure is on. You don't want your star player cracking during the finals or a qualifier. Understand what your athlete needs to get the most out of them. Try the SPP today to understand your default style of coaching and how you may be able to adapt to the different personalities of your athletes!
– Danielle Boyd is TalentClick's Digital Marketing Coordinator & Rio 2016 Olympian in the sport of Sailing.