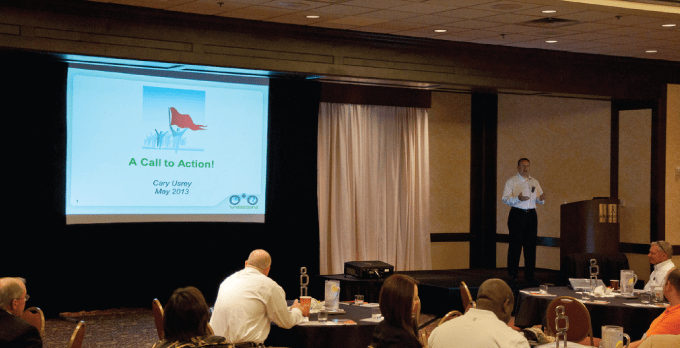 Thanks for joining us for part two of our interview with Cary Usrey, Process Improvement Leader at Predictive Solutions.
You can read part one here
How does Predictive Solutions continually improve their solutions?
Cary Usrey:
Predictive Solutions has been around since 2000. In the last 15 years we have elevated our software to include both predictive modeling as well as sophisticated statistical analysis relative to the safety data collected by companies. By leveraging the 200+ million observations in the system from various companies, we are able to determine correlations that would be impossible otherwise. In addition, we have a dedicated software development team and data scientist who continually build on our previous successes and offer new and more exciting capabilities on a continuous basis.
In your experience, how much does personality contribute to a company's safety culture?
Cary Usrey:
I believe every company has a culture. Obviously some are better than others. This culture determines how people carry out their jobs and interact with each other. I hate to say safety culture because it is actually a company culture that influences not only safety but productivity, quality, etc. I believe personality can contribute to a company's culture and some personalities may struggle or conflict with an ingrained company culture more than others. However, I don't believe in a manifest theory that this is absolute and cannot be changed.
There is a lot of talk about Online Safety Training becoming the next big thing. Do you see value in shifting training online?
Cary Usrey:
I have seen online safety training for some time. In construction, we were using this decades ago. Do I see value in training online? Absolutely. However, there are pros and cons to online training. Pros include a consistent approach, the ability to train field personnel in construction prior to arriving on-site, cost savings, flexible scheduling, etc. Cons include the inability to easily deliver site specific information that may vary widely across an organization and drawbacks to easily asking a trained instructor specific questions.
What is one of your favorite things to hear from your clients?
Cary Usrey:
I love to hear when clients begin incorporating a structured process into the safety approach, especially when they integrate a safety process to go with their safety plan. A safety plan is usually just that – a written health and safety plan. It is a collection of rules, regulations, and management approaches to ensure everything is done safely. However, just looking at speeding on a highway tells me that very rarely does everyone follow all of the rules, all the time.
A safety process measures the reality against the expectation (the plan) and records the gaps and trends. The process then analyzes the differences and acts accordingly to drive continuous improvement. In effect, it is taking effective leadership methodology and merging it with effective management techniques.
If there was one strategy leaders could implement immediately, what would you recommend?
Cary Usrey:
Having a safety management system is not enough. Management is only one side of the coin. Leadership must be incorporated into a safety management system and must address fundamentals such as direction and vision, alignment and engagement, relationships and effective communication, personality and positive psychosocial factors (e.g. stress, fear, intimidation, inclusion, etc.), and honesty in outcome expectations (i.e. Do you want strict, unquestioning adherence to all policies or stability and order in a dynamic environment?).
Leaders must find ways to empower workers and then provide a positive environment to let it happen.
Finally, anything exciting coming up our readers should know about?
Cary Usrey:
As more leading safety data is collected, predictive analytics are able to leverage the 'big data' and draw better conclusions and better insight. Industry and company specific predictive models are now a reality based on the knowledge of the masses, so to speak. Gone are the days of measuring safety by our failures instead of our accomplishments.
BIG THANKS TO CARY USREY!
We'd like to give a huge thanks to our guest Cary Usrey! Be sure to visit Cary's author page to get up to speed on what Cary is all about and his most recent publications.
You can also connect with Cary on LinkedIn and Twitter.