WHAT IS THE DSQ™?
With lawmakers scrambling to keep drivers safer on the road with laws and enforcement, Driver Safety Quotient™ helps commercial fleets develop safer drivers. This online employee safety assessment provides employers and their drivers valuable insight into their natural driving styles along with recommendations for developing safer habits while driving.
The DSQ measures 6 Personality Dimensions that have been linked to unsafe behaviors which can lead to incidents and injuries on the road and in the workplace:
Resistant vs. Compliant
Anxious vs. Calm
Impatient vs. Patient
Distractible vs. Focused
Impulsive vs. Cautious
Thrill-Seeking vs. Apprehensive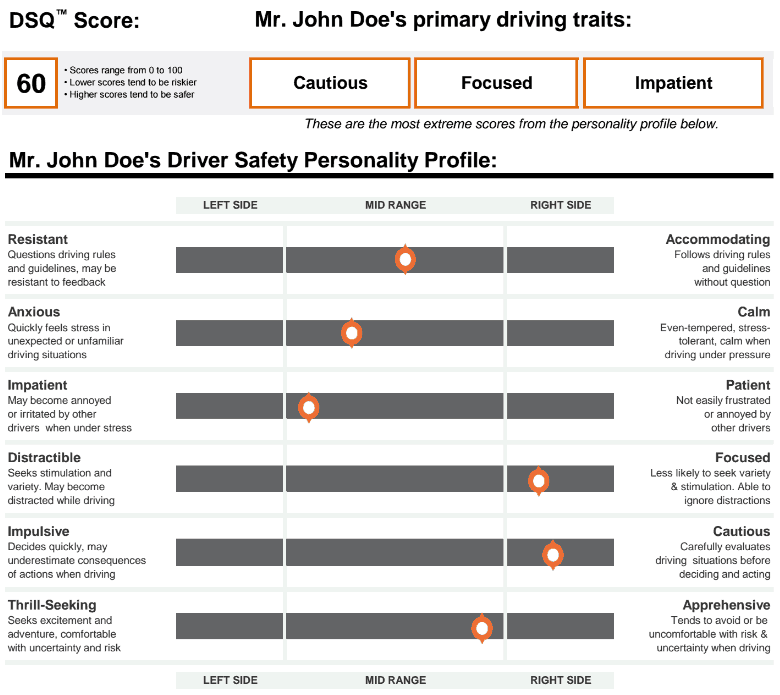 WHY USE DSQ™?
Our research has shown that:
Drivers and Operators who are highly Resistant had on average 53% more At-Fault Crashes
Drivers and Operators who are highly Distractible had on average 80% more Vehicle Damage
Drivers and Operators who are highly Impatient had on average a 39% higher Telematics Speeding Score